OUR CUSTOMERS SAY IT BEST
Don't take our word for it. Read what our customers have to say about CareTime.


AWESOME!!!!! CareTime has actually allowed me to virtually run my office without anyone being present. The systems functions are easy to use and I just couldn't have found any other system any better. Hands up for CareTime USA. I give them a two thumbs up…. I've been with CareTime for 5 yrs. There is not one thing about CareTime that I like least.
Christine D.
Owner/Director
I had an outstanding experience with your employees and they were able to meet every need all the information was very helpful and was explained in a way that anyone would catch on. I am very pleased with the service even though I haven't been able to get started yet, but we plan to began this month after we finish training.
Marilyn C.
Director of Business
CareTime has been very helpful whenever I have any question about the system or concern i would recommend it to all that's in my business. I love everything about this system it does what is needed for employees to operate comfortable in clocking in and out directing what to do when needed, giving me all the information that is needed to acquire me to run my business it is the best system I know and I recommend it to every person I can that is in my line of work I love it.
Vincent I.
Director
Good to keep clients care plan and employees documents all in easy to find when documents are required. The product easy to use simple to use. Able to access portal in a timely manner.
Jakina J.
Owner
Once I learn how to work it, I knew I needed it. They walked me through and as hard of time I had the person stayed on me until I got.
Nadine L.
Admin
Overall the experience has been positive, and CareTime has functioned as we needed. It is effective in providing what we had utilized it to do.
Janlea L.
Program Supervisor
I love everything about this software it helps me a lot to its hard to maintain and manage a business this software has made my life so much easier. Nothing bad to say about this software I would totally recommend this product.
Jakenzie W.
Director
Overall I am satisfied with the product and the recent upgrades. I have been using this product for almost 2 years and have not switched to the competitors that constantly contact us. It's easy to use. The employees find it less complicated than some other systems that they have used with other companies in the past.
Trena W.
Administrator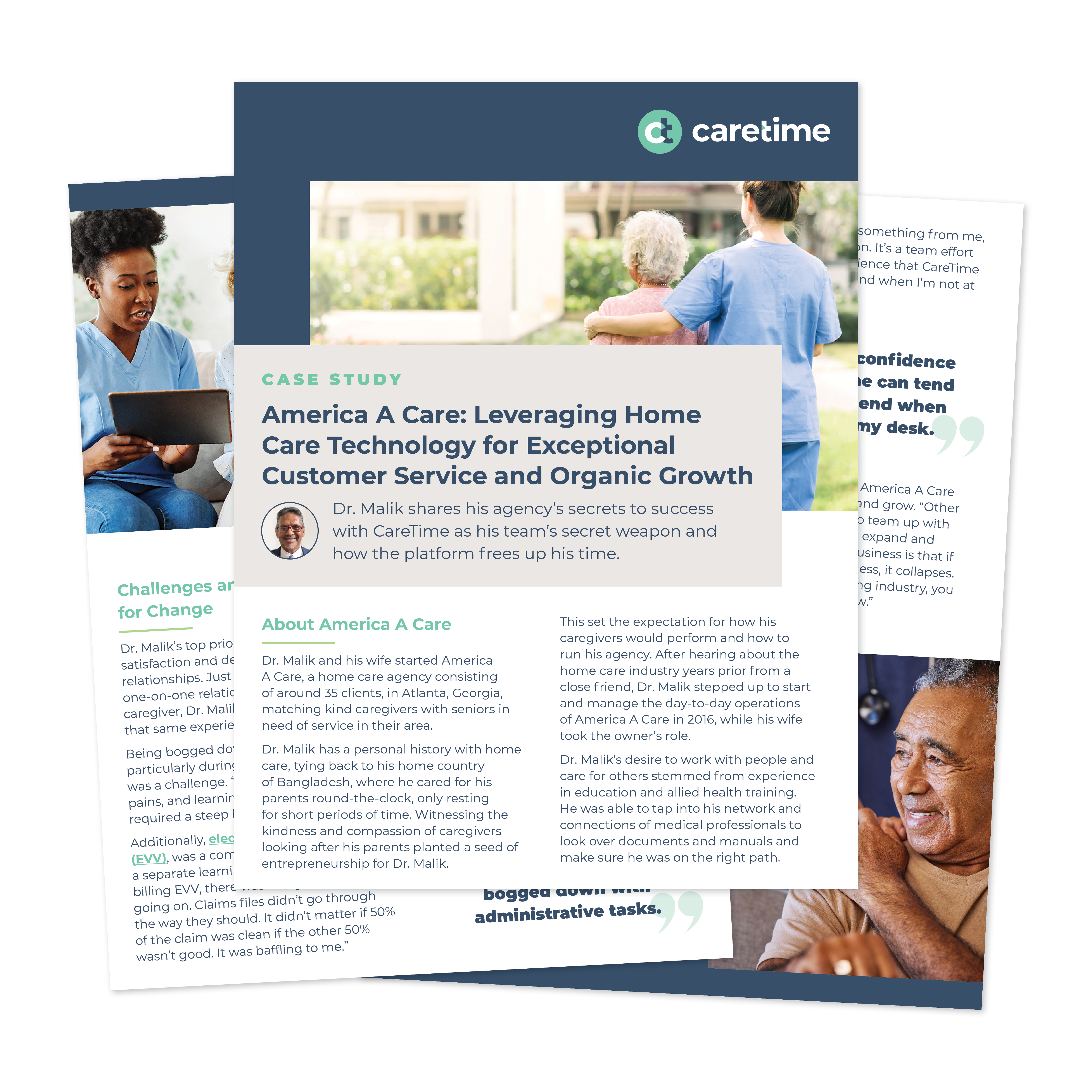 America A Care: Leveraging Home Care Technology for Exceptional Customer Service and Organic Growth
Dr. Malik shares his agency's secrets to success with CareTime as his team's secret weapon and how the platform frees up his time.
"Using Caretime has given me the freedom to work on building customer relationships and listening to their stories, instead of being bogged down with billing or EVV."
Read the Full Story
We're simple and complete. Let us show you how easy it all can be.