I had an outstanding experience with the CareTime team. They were able to meet every need. All the information was very helpful and was explained in a way that anyone would catch on. I am very pleased with the service!
Marilyn C.
Director of Business
It is the best system out there, and I recommend it to every person I can that is in my line of work. I love everything about it!
CareTime provides a great way to store client care plan and employee documents all in one place. It is easy to find documents when they are required. The product is easy and simple to use. Can't recommend it enough!
Once I learned more about CareTime, I knew this is exactly what I needed for my agency. CareTime walked me through everything to make sure I was set up for success.
Overall the experience has been nothing but positive, and CareTime has functioned as we needed. It does exactly what we needed it to do and MORE!
Janlea L.
Program Supervisor
I love everything about this software! CareTime helps me in so many ways, as it is hard to maintain and manage a business alone. This software has made my life so much easier. Nothing bad to say about this software I would totally recommend this product.
I am beyond satisfied with the product and the recent upgrades. I have been using this product for almost 2 years and have not switched to the competitors that constantly contact us. It's easy to use. The employees find it less complicated than some other systems that they have used with other companies in the past.
CareTime is AWESOME!!!!! It has allowed me to virtually run my office without 1anyone being present. The system functions are easy to use, and I couldn't have found any other system any better. Hands up for CareTime. I give them a two thumbs up! I've been with CareTime for 5 years. There is not one thing about CareTime that I dislike.
Christine D.
Owner/Director
We Support All Models of Home Care & Billing Sources
No matter the makeup of your business, our flexible features fit all types of home care molds.
✓ Long-Term Care Insurance
✓ Veterans Aid & Attendance
FEATURES FOR END-TO-END SUPPORT
Your Home Care Control Tower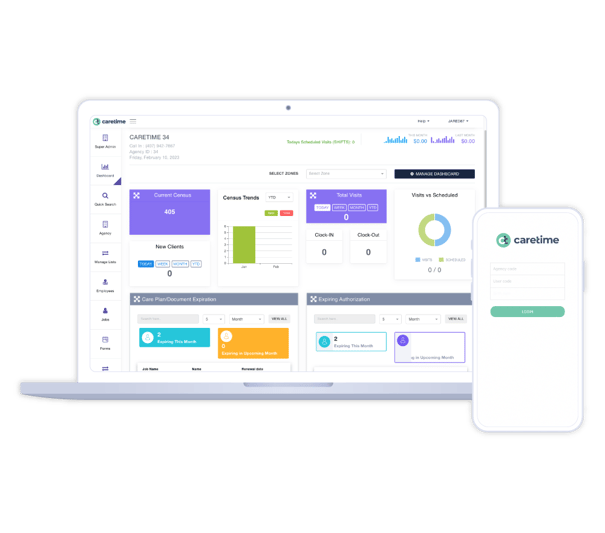 Style and Substance
When we say "user-friendly", we mean it. CareTime is incredibly easy for your staff to use, whether they're in the office or in the field providing care. Our software is built to improve operational efficiency and analyze your business performance, all while updating to ensure our features match the evolving needs of your home care agency. Your business deserves the flexibility and quality care that you provide to your clients.
SIMPLIFY VISITS WITH CARETIME MOBILE APP
Mobile App for Caregivers
Our app allows caregivers to:
Ready to scale up? Get in touch with us today.