Easy-To-Use Home Care Software
Running a home care business requires powerful software. We make it look easy.
CareTime is home care software set to help you run your agency--whether it is Medicaid, private duty, consumer-directed, or even a registry.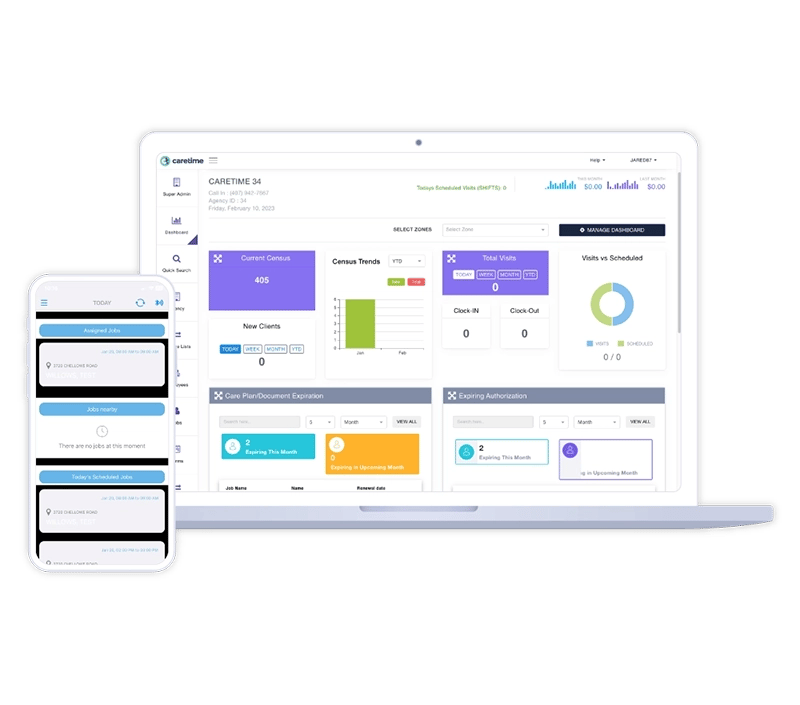 Powerful Features Wrapped in a Friendly Interface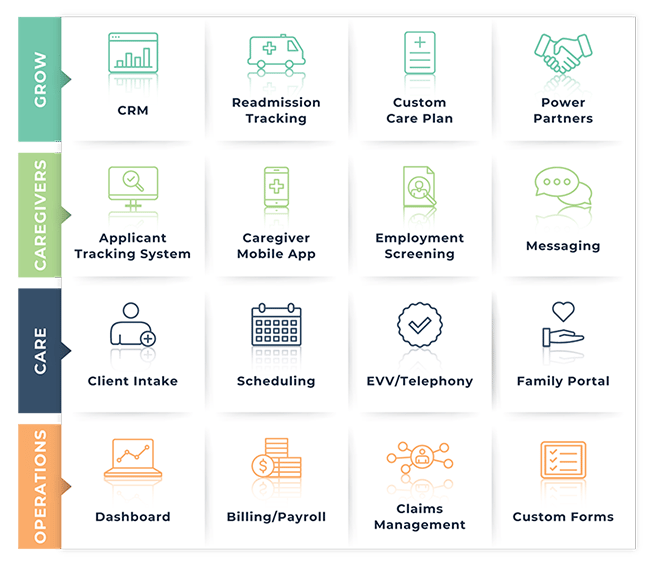 Optimize Your Operations
CareTime's thoughtful features allow you to spend less time on manual processes, and more time providing quality care. Our all-in-one suite makes home care management feel like a breeze.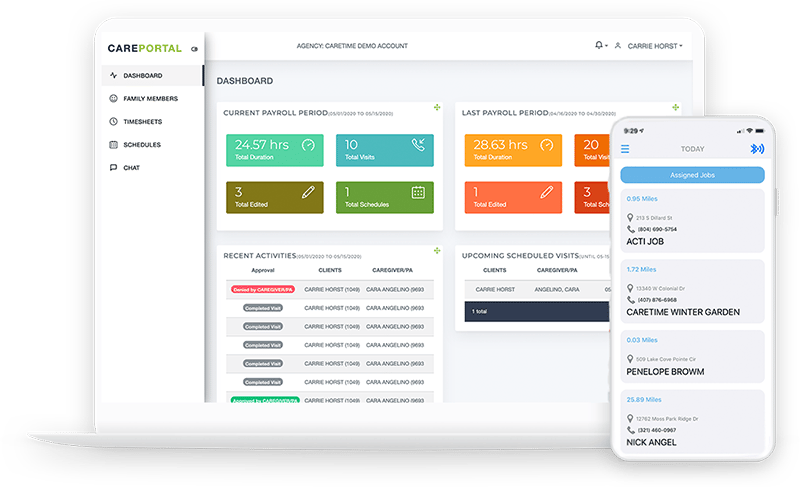 Boost Your Business
A powerful suite of communication tools from our one-of-a-kind CarePortal gives your agency the competitive edge it needs to drive referrals, increase engagement, improve retention, and bring in more business.
Cut Claims Time
CareTime claims can be done in just minutes per week – automatically send claims to clearinghouses and payers with the click of a button. We offer a Claims Module that creates and sends electronic claims to get paid by insurance, Medicaid, and more. Batch claims can be created in an instant from all of your visit data. Process thousands of claims in a snap!
Scheduling in a Snap
No longer do you have schedulers spending all of their days calling, writing down availabilities, and filling shifts. Cut hours out of the process with our caregiver-client shift matching. Find the best fit based on client requirements, preferences, distance, hours worked, and caregiver availability. You can invite caregivers to accept a shift through text and email, which is filled on a first-come-first-serve basis.
Tailor CareTime to Your Business
Alerts Help You Manage Even Better
Alerts for no-shows, late check-ins, late check-outs, upcoming shifts, overtime, authorization exhaustion, and nurse certificate expiration are alerts that you can choose to receive.
Reports to Find More Revenue & Cut Expenses
Use reports to compare actual vs. scheduled visits, no-shows, overtime pay, underutilized visits, etc.
Manage Caregivers & Certifications
Add and manage caregivers quickly with our employee management system. You can add, inactivate or terminate employees and maintain records with the click of a button. Also, manage their certifications and expirations.
Document Visits, Prompt for Questions
Caregivers can document notes and tasks completed in a visit. Agencies can prompt for specific questions before a visit is completed.
Track Authorizations for Medical Care
You can track authorized care and be notified of when authorizations are running low.
Create Zones for Clear Management of Care
You can create zones for geographic areas, branch offices, payers, or types of care. Zones help you organize your firm when it comes to shifts, billing, payroll and reporting.